Ship model San Marcos, historic wooden static kit Occre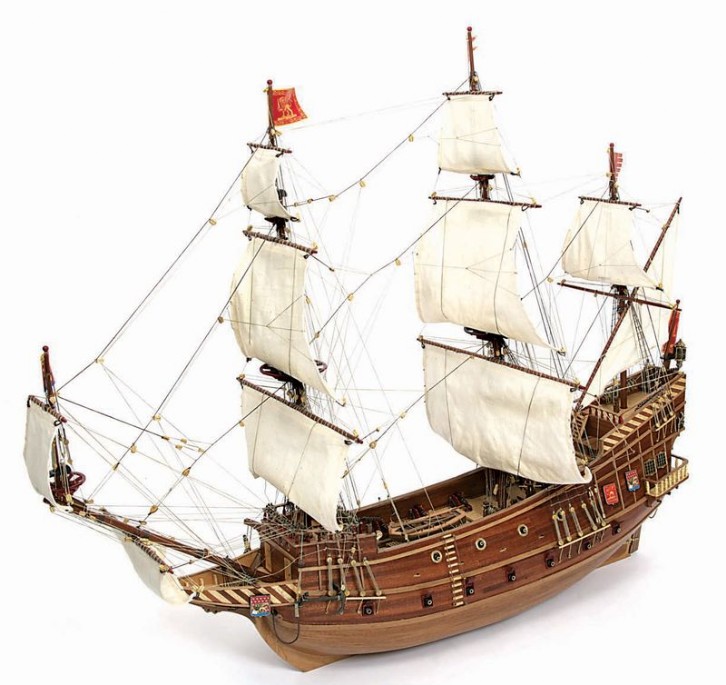 Specification
Scale 1:50


Length: 810 mm


Height: 650 mm


Difficulty: 3


Part No.: OC14004

San Marcos ship model
San Marcos galleon was successful boat in war and trade.

Scale 1:50, Length: 810 mm, Height: 650 mm
Display scale kit difficulty: 3

Ship history
This galleon is a direct descendant of the "caracks", large, distinguished galleons, originally Mediterranean based but later sailing the Atlantic. The name galleon was first given to a type of ship from Liguria, built at the start of the 16th century. Initially designed as merchantmen they were heavily armed, for defense against pirates and other enemies, but ended up, after 1570, becoming men of war. Although the galleons reached their greatest splendor when they plied the Atlantic, the height of their development, they were the result of accumulated experiences on the European Atlantic front and their experiences as merchantmen in the Mediterranean.
In 1588, King Philip II of Spain put the Duke of Sidonia in charge of the Spanish Armada. With the goal of invading England, 131 ships and 17,000 men set out for Dunkirk, where they were to join forces with the Duke of Parma and pick up another 16,000 men. One of the most important ships of the fleet was the San Marcos, a Portuguese galleon of 790 tons. She carried 33 guns, 292 soldiers and 117 sailors. Heavily damaged during the battle and punished by high winds, San Marcos broke up on the reef between Mutton Island and Lurga just off Ireland's west coast.

Scale kit description
The kit features the following: This advanced kit is suitable for ship kit builders who previously built two or more models of a similar style. The plan was drawn from the French period books. Standard plank on frame hull construction, utilize walnut, maple and lime wood. Figure head, caryatids, angels & other ornamentations in cast or pressed brass, sails. All dead eyes, blocks, etc. are in walnut. Flags printed on silk, standing & running in black & natural rope. All lanterns, cannon, anchors, hinge & strops made in metal. Fully detailed building plans with English instructions.

CAUTION!! Although these are high quality ship model kits, they may not be suitable for some one not familiar with building of wooden model ship kits. See more.