Jupiter, historic wooden static kit Amati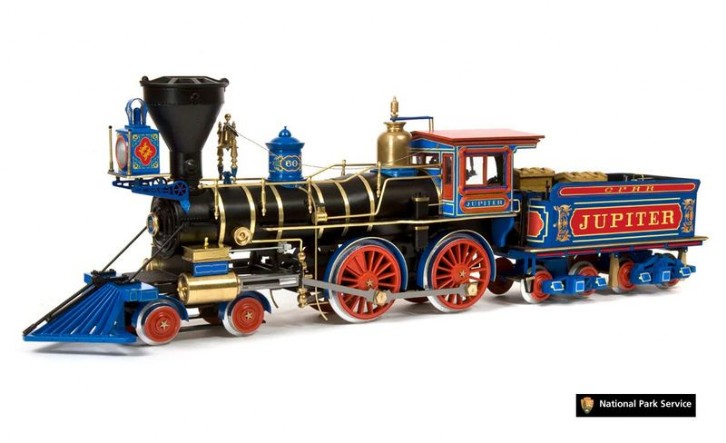 Specification
Scale:1:32




Length: 485 mm




Difficulty: 2




Part No.: OC54007



Locomotive history
The Jupiter was an American locomotive of the 4-4-0 type and is historically very important because of the role that it played in the first American transcontinental railway line.
This train was owned by the Central Pacific Railroad and was built in 1868 by the Schenectady Locomotive Works of New York, along with three other locomotives: Storm, Leviathan and Whirlwind.
The Jupiter weighed 65,400 pounds and had 60 inch driving wheels and cylinders measuring 16 by 24 inches. The Jupiter was a wood-burning locomotive and generated a traction force of 10,790 pounds.
Currently, an exact replica of the locomotive Jupiter, is located in the Golden Spike National, at Promontory Summit, Utah. It is famous for being considered the place where you completed the first transcontinental railroad in the United States.
Scale kit description
The kit includes pre-cut wooden details and metal accessories; detailed plans and instructions. for locomotive. Station, bridge and so on are not included.
Discover a railway modelling jewel with our kit models, which will allow you to enjoy pleasurable moments and enjoy a journey back to the age of these marvellous steam locomotives with our model railway kits.
You will find out, step by step, how to put together a model featuring all the details of the original locomotive.
We invite you to let yourself get carried away and set up spaces for creative leisure in which you can enjoy this marvellous model train.
CAUTION!! Although these are high quality ship model kits, they may not be suitable for some one not familiar with building of wooden model ship kits. See more.


Locomotive model Jupiter is favorite wooden scale kit from Occre manufacturer. It is popular for its good quality and the customers often buy it as a valuable and nice gift. Scale model kit Jupiter locomotive
from Occre contains necessary building material and parts. That is why the modeler can focused only on building of this nice wooden tall ship model. VictoryShipModels.com selects and offer only the best ship model kits. Ship model locomotive Jupiter
is one them.