Ship model HMS Terror, historic wooden static kit Occre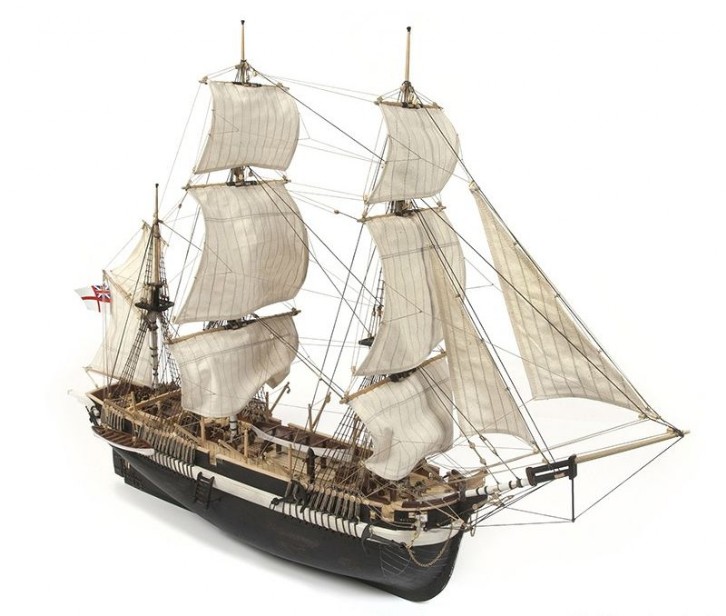 Specification
Scale 1:65


Length: 676 mm


Height: 504 mm


Difficulty: 2


Part No.: OC12004

HMS Terror ship model
HMS Terror was well known ship, participant of Franklin's mysterious expedition.

Scale 1:65, Length: 676 mm, Height: 504 mm
Display scale kit difficulty: 2

Ship history
HMS Terror was well known ship, participant of Franklin's mysterious expedition.
In 1845, under the command of Sir John A. Franklin, the ships Terror and Erebus set off on an expedition to navigate the famous Northwest Passage.
They were the first ships to be fitted out with auxiliary steam engines and were also reinforced with iron plating, fore and aft, to increase their resistance to pack ice. They were stocked with sufficient supplies for 3 years at sea.
The last sighting of the two ships was off Greenland was as they entered Baffin Bay, gateway to the frozen Arctic labyrinth.
With the collaboration of an Inuit hunter from the Arctic hamlet of Gjoa Haven, on 26th September 2016 the wreck of H.M.S. Terror, 168 years after her disappearance, was finally discovered. The Terror was in excellent condition. Images have been obtained of her deck and interior, showing perfectly preserved objects and parts of the ship that remained intact.
The mystery of the Franklin's tragic expedition continues to this day, although it is hoped that an archaeological study of the wreck will help shed some light on what happened.

Scale kit description
The kit features the following: This intermediate kit would be suitable for anyone who has previous model building experience. A double plank on frame hull construction, building plans with general details, English instructions, lost wax brass castings, walnut or lime planking, wooden masts and spars, brass and walnut fittings, etched brass details, rigging cord, sails and silk flag. All sheet ply sections are laser cut for accuracy.

CAUTION!! Although these are high quality ship model kits, they may not be suitable for some one not familiar with building of wooden model ship kits. See more.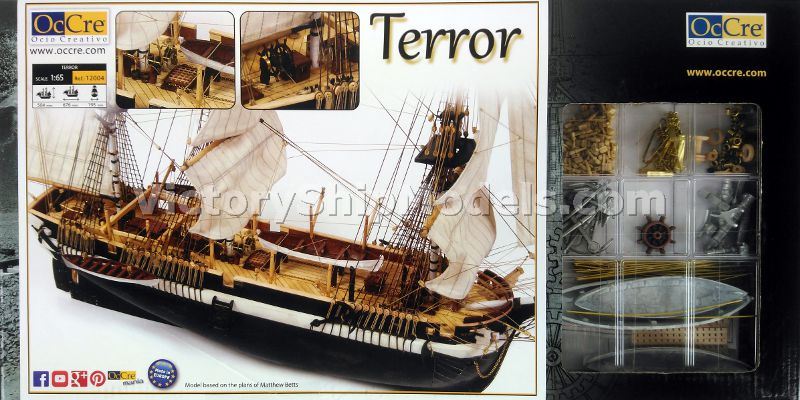 Ship model Terror is favorite wooden scale kit from Occre manufacturer. It is popular for its good quality and the customers often buy it as a valuable and nice gift. Scale model kit Terror from Occre contains necessary building material and parts. That is why the modeler can focused only on building of this nice wooden tall ship model. Victoryshipmodels.com selects and offer only the best ship model kits. Ship model Terror is one of them.

Retail box in pictures - overview
Wooden planks and parts, accessories, documentation.

Open box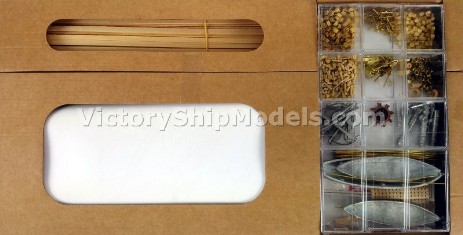 Wooden parts

Accessories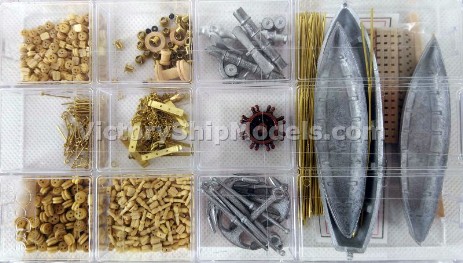 Documentation