Ship model Bounty launch, historic wooden static kit Occre
Specification
Scale 1:24


Length: 435 mm


Height: 260 mm


Difficulty: 1


Part No.: OC52003

Bounty launch ship model
19 men made a remarkable voyage in Bounty launch.

Scale 1:24, Length: 435 mm, Height: 260 mm
Display scale kit difficulty: 1

Ship history
Following the mutiny on the Bounty, Captain Bligh, along with 18 loyal members of the crew were cast adrift in the launch, and made a remarkable voyage length of 6700 km to the island of Timor, after spending 41 days in the worst possible conditions.

Scale kit description
The kit features the following: This beginner kit is a good choice for everyone who is new in ship model building. A plank on frame hull construction, building plans with general details, English instructions, walnut or lime planking doweling for masts, spars and oars, full set of detailed brass shields and sails. All sheet ply sections are laser cut for greater accuracy.
Immerse yourself in the world of ship modelling and enjoy a journey back to the age of these marvellous ships with our kit models.
See how, step by step, you can replicate a model down to the finest detail and faithful to the original launch. We invite you to let yourself get carried away and set up spaces for creative leisure in which you can enjoy this marvellous model of the Bounty launch.

CAUTION!! Although these are high quality ship model kits, they may not be suitable for some one not familiar with building of wooden model ship kits. See more.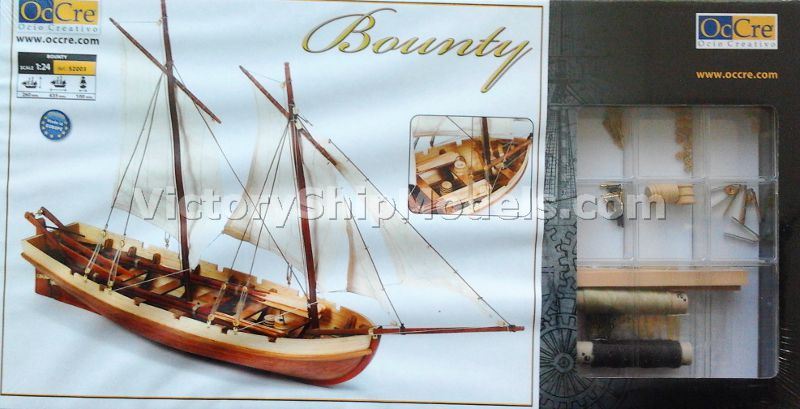 Ship model Bounty is favorite wooden scale kit from Occre manufacturer. It is popular for its good quality and the customers often buy it as a valuable and nice gift. Scale model kit Bounty from Occre contains necessary building material and parts. That is why the modeler can focused only on building of this nice wooden tall ship model. VictoryShipModels.com selects and offer only the best ship model kits. Ship model Bounty is one of them.