Ship model Mercedes, historic wooden static kit Occre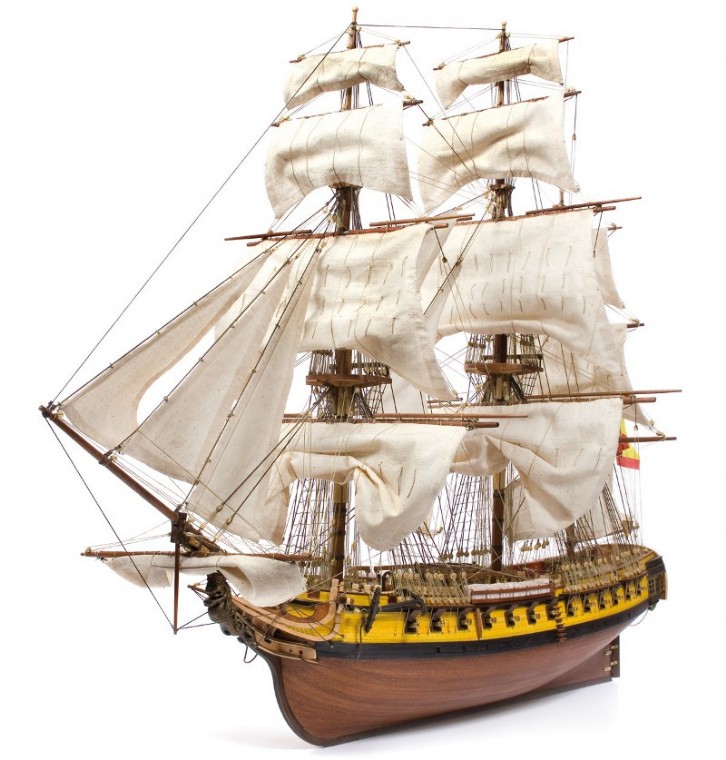 Specification
Scale 1:85


Length: 845 mm


Height: 640 mm


Difficulty: 3


Part No.: OC14007

Mercedes ship model
The Mercedes was an Spanish frigate, which was transporting silver and gold.
Scale 1:85, Length: 845 mm, Height: 640 mm
Display scale kit difficulty: 2

Ship history
The Nuestra Señora de las Mercedes was a Spanish Navy frigate which was sunk by the British near the south coast of Portugal on 5 October 1804 during the Battle of Cape Santa Maria. At the time of the naval action Spain and England were at peace with each other. The Spanish frigate was part of a small flotilla sailing from Montevideo to Cadiz, transporting silver, gold, vicuna, cinnamon and quinoa. The flotilla was intercepted by a British Navy task force, and ordered to change course and proceed to a British port for inspection. The Spanish commanding officer, brigadier José de Bustamante y Guerra objected that the two nations were at peace, declared that they would not comply with the order, and ordered battle quarters, despite being outgunned and outnumbered. A single shot from the British ship, hit the ship's magazine causing an explosion that sank the ship. 250 crewmen were lost, and 51 survivors were rescued from the sea.
On May 18, 2007 Odyssey Marine Exploration announced wreck discovery, code-named "Black Swan". It has been declared to be the Mercedes. Odyssey recovered almost 500,000 silver and gold coins from the wreck.
On February 27, 2012 the treasure was sent back to Spain where the coins and other artifacts from the shipwreck are now exhibited in public museums.

See full Nuestra Señora de las Mercedes shipwreck treasure story.

Scale kit description
The kit features the following: This intermediate kit would be suitable for anyone who has previous model building experience. A plank on frame hull construction, building plans with general details, English instructions, lost wax brass castings walnut or lime planking, wooden masts and spars, brass and walnut fittings, etched brass details, rigging cord, sails and silk flag. All sheet ply sections are laser cut for accuracy.

CAUTION!! Although these are high quality ship model kits, they may not be suitable for some one not familiar with building of wooden model ship kits. See more.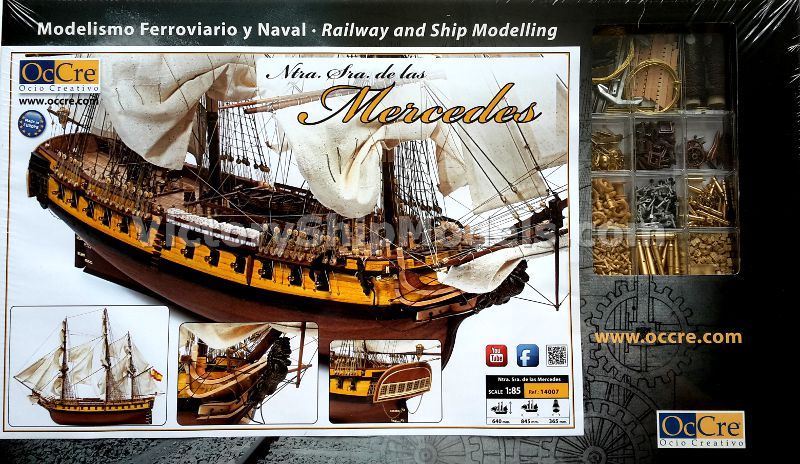 Ship model Mercedes is favorite wooden scale kit from Occre manufacturer. It is popular for its good quality and the customers often buy it as a valuable and nice gift. Scale model kit Mercedes from Occre contains necessary building material and parts. That is why the modeler can focused only on building of this nice wooden tall ship model. Victoryshipmodels.com selects and offer only the best ship model kits. Ship model Mercedes is one of them.

Retail box in pictures - overview
Wooden planks and parts, accessories, documentation.

Open box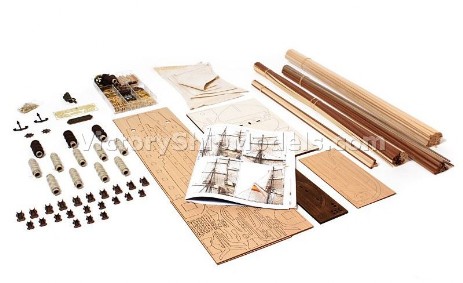 Wooden parts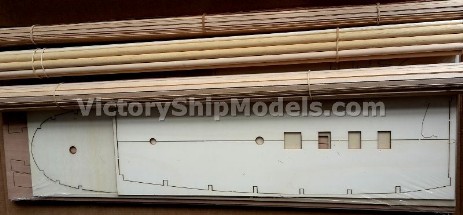 Accessories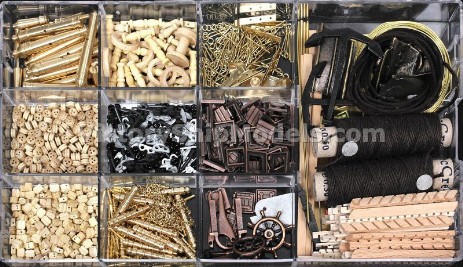 Documentation