Ship model Kon-Tiki, wooden kit Mantua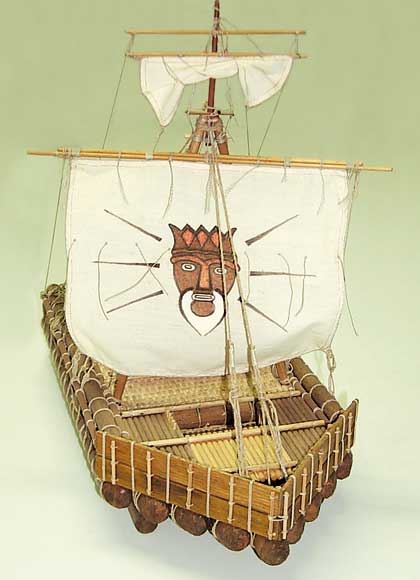 Specification
Scale 1:18


Length: 590 mm


Difficulty: 1


Part No.: MM703

Kon-Tiki ship model
Heyerdahl decided to prove his theory by duplicating the legendary voyage. He built a replica of an Indian balsa wood raft.

Scale 1:18, Length: 590 mm
Display scale kit difficulty: 1

Ship history
Biologist Thor Heyerdahl suspected that the South Sea Islands had been settled by an ancient race from South America. According to legend, this migration was led by the mythical hero, Kon-Tiki.

Heyerdahl's theory was met by a storm of protest, since it was widely believed the islands had been populated from the Indonesia. One of the arguments was the lack of evidence that the Pre-Colombian Indians of South America had sea-going vessels capable of crossing the enormous expanse of ocean between their continent and Polynesia.
Heyerdahl decided to prove his theory by duplicating the legendary voyage. He built a replica of an Indian balsa wood raft. He set sail from Peru on April 28, 1947 together with five other adventurers. The balsa wood raft Kon-Tiki was built as a copy of a pre historic South American vessel. Constructed from nine balsa logs collected from Ecuador A crew of six men sailed the raft from Callao in Peru of and landed in Polynesia after three months on the open sea, encountering raging storms. This successful voyage of 4300 miles proved that the islands in Polynesia were within the range of this type of prehistoric South American Vessel.

Scale kit description
The kit features the following: This beginner kit is a good choice for everyone who is new in ship model building.
The Kon-Tiki kit is built using balsa logs tied with rope to form a water-tight platform. The top of the platform, which serves as the deck, is finished with woven balsa strips. A deck-house, built of basswood strips and covered with laser-cut wooden pieces to simulate a thatched roof, protects the crew from the elements. The kit also includes canvas window flaps and sail material, plus a template for the painted sail decoration. Full building plans and detailed construction manual assure a fascinating historically accurate model.

CAUTION!! Although these are high quality ship model kits, they may not be suitable for some one not familiar with building of wooden model ship kits. See more.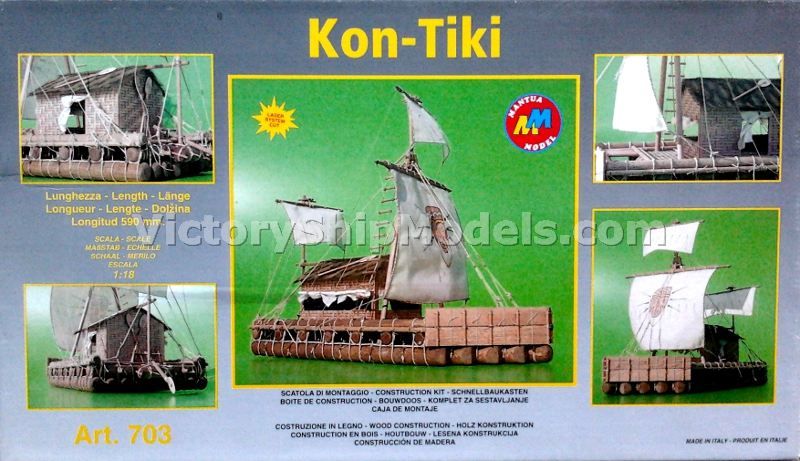 Ship model Kon-Tiki is favorite wooden scale kit from Mantua manufacturer. It is popular for its good quality and the customers often buy it as a valuable and nice gift. Scale model kit Kon-Tiki from Mantua contains necessary building material and parts. That is why the modeler can focused only on building of this nice wooden tall ship model. Victoryshipmodels.com selects and offer only the best ship model kits. Ship model Kin-Tiki is one of them.

Retail box in pictures - overview
Wooden planks and parts, accessories, documentation.

Open box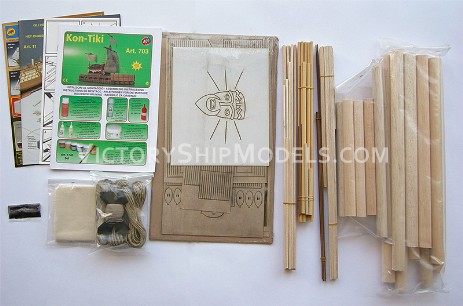 Wooden parts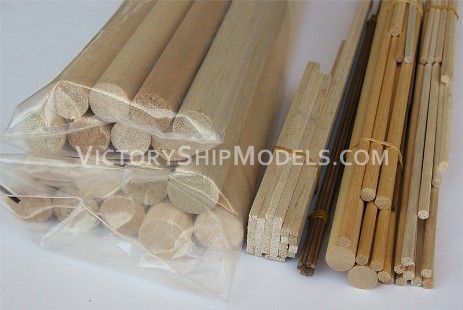 Accessories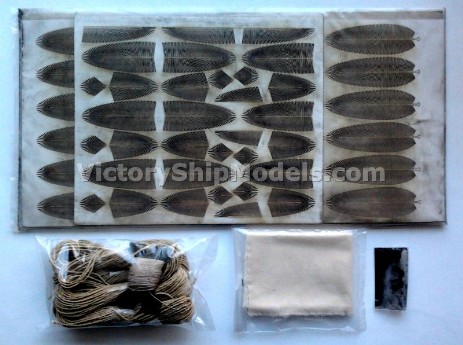 Documentation