Ship model Constitution, wooden kit Mantua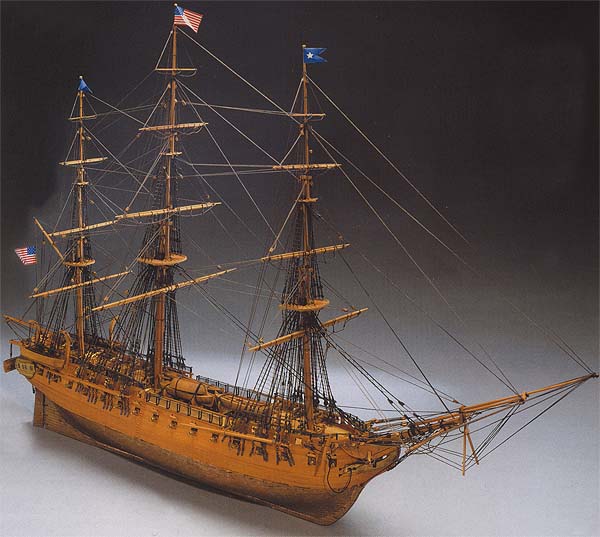 Specification
Scale 1:98


Length: 960 mm


Difficulty: 3


Part No.: MM779

Constitution ship model
This is a nice scale model of the American ship Constitution. After two abortive attempts, she was finally launched on 31st. December 1797. She became known as Old Ironsides and continued in service until 1897 when she was towed back to the scene of her launching in Boston and remains there as an American shrine and museum.

Scale 1:98, Length: 960 mm
Display scale kit difficulty: 3

Ship history
This is a nice scale model of the American ship Constitution. After two abortive attempts, she was finally launched on 31st. December 1797. She became known as Old Ironsides and continued in service until 1897 when she was towed back to the scene of her launching in Boston and remains there as an American shrine and museum.

Launched on October 21, 1797, the USS Constitution has won every battle she's ever fought - over 40 of them! She earned her nickname "Old Ironsides" after a sailor saw a cannonball bounce off her hull. Resting in Boston Harbor, she's the oldest commissioned US warship. USS Constitution went through several restorations during her career. A major restoration between 1993 and 1997 prepared the frigate for her 200th anniversary. Workers restored the thick deck strakes and diagonal riders to strengthen the hull and make her seaworthy. They fitted fore, main and mizzen topsails, jib, flying jib, and spanker sails for the day when "Old Ironsides" would move under her own power once more. That historic moment arrived on July 21, 1997, when Constitution set sail from Marblehead Harbor to a point just one mile short of Halfway Rock. The five-mile cruise took one hour.

A Brief History of the USS Constitution
USS Constitution, known as "Old Ironsides," is a wooden-hulled, three-mast frigate of the United States Navy. Named after the United States Constitution, she is the oldest commissioned ship afloat in the world and is still in service in the US Navy (while HMS Victory is the oldest commissioned ship in the world by three decades, she is permanently in dry dock). The Constitution was one of the six original frigates authorized for construction by the Naval Act of 1794. Joshua Humphreys designed them to be the Navy's capital ships and so Constitution and her sisters were larger and more heavily armed than the standard run of frigates from the period.
USS Constitution was built at Edmund Hart's shipyard in Boston, Massachusetts from the resilient lumber of 2,000 live oak trees (specifically Southern live oak) cut and milled at Gascoigne Bluff on St. Simons, Georgia. Constitution's planks were up to seven inches (178 mm) thick. The ship's design was also unique for its time because of a diagonal cross-bracing of the ship's skeleton that contributed considerably to the ship's structural strength. Paul Revere forged the copper spikes and bolts that held the planks in place and the copper sheathing that protected the hull. It took several abortive attempts to launch Constitution in 1797 before she finally slipped into Boston Harbor. Thus armed, Constitution first put to sea 22 July 1798 and saw her first service patrolling the southeast coast of the United States during the Quasi-War with France. During her service in the conflict, Constitution's sailors and marines took part in the amphibious operation against Puerto Plata, Santo Domingo wherein the French privateer Sandwich was cut out and guns from the local Spanish fort were spiked.
In 1803 Constitution was designated flagship for the Mediterranean Squadron under Captain Edward Preble and went to serve against the Barbary States of North Africa, which were demanding tribute from the United States in exchange for allowing American merchant vessels access to Mediterranean ports. Preble began an aggressive campaign against Tripoli, blockading ports and bombarding fortifications. Finally Tripoli, Tunisia, and Algeria agreed to a peace treaty.
Constitution patrolled the North African coast for two years after the war ended, to enforce the terms of the treaty.
She returned to Boston, in 1807, for two years of refitting. The ship was recommissioned as flagship of the North Atlantic Squadron in 1809 under Commodore John Rodgers.
By early 1812, relations with the United Kingdom had deteriorated and the Navy began preparing for war, which was declared 20 June. Captain Isaac Hull, who had been appointed Constitution's commanding officer in 1810, put to sea 12 July, without orders, to prevent being blockaded in port. His intention was to join the five ships of Rodgers' squadron.
Constitution sighted five ships off Egg Harbor, New Jersey, July 17. By the following morning the lookouts had determined they were a British squadron that had sighted Constitution and were giving chase. Finding themselves becalmed Hull and his seasoned crew put boats over the side to tow their ship out of range. By using kedge anchors to draw the ship forward, and wetting the sails down to take advantage of every breath of wind, Hull slowly made headway against the pursuing British. After two days and nights of toil in the relentless July heat, Constitution finally eluded her pursuers.
But one month later on August 19, she met with one of them again—the frigate HMS Guerriere offs the coast of Nova Scotia. The British ship fired the first shot of the battle; 20 minutes later, Guerriere was a dismasted hulk, so badly damaged that she was not worth towing to port. Hull had used his heavier broadsides and his ship's superior sailing ability, while the British, to their astonishment, saw that their shot seemed to rebound harmlessly off Constitution's strong live oak hull—giving her the nickname "Old Ironsides".
Under the command of William Bainbridge, "Old Ironsides" met HMS Java, another British frigate, in December. Their three-hour engagement left Java unfit for repair, so she was burned. Constitution's victories gave the American people a tremendous boost to morale.
Despite having to spend many months in port, either under repair or because of blockades, Constitution managed eight more captures under the command of Charles Stewart, including a British frigate or sloop sailing in company which she fought simultaneously, before peace was declared in 1815. After six years of extensive repairs, she returned to duty as flagship of the Mediterranean Squadron. She sailed back to Boston in 1828.
An examination in 1830 found her unfit for sea, but the American public expressed great indignation at the recommendation that she be scrapped, especially after publication of Oliver Wendell Holmes' poem "Old Ironsides". Congress passed an appropriation for reconstruction and in 1835 she was placed back in commission. She served as flagship in the Mediterranean and the South Pacific and made a 30-month voyage around the world beginning in March 1844.
In the 1850s she patrolled the African coast in search of slavers, and during the American Civil War served as a training ship for midshipmen.
After another period of rebuilding in 1871, she transported goods for the Paris Exposition of 1877 and served once more as a training ship. Decommissioned in 1882, she was used as a receiving ship at Portsmouth, New Hampshire. She returned to Boston to celebrate her centennial in 1897.
In 1905, public sentiment saved her once more from scrapping; in 1925 she was restored, through the donations of school children and patriotic groups. Recommissioned 1 July 1931, she set out under tow for a tour of 90 port cities along the Atlantic, Gulf and Pacific coasts of the United States. From 1920–23 she was renamed Old Constitution, to free her name for a new (but ultimately never-completed) battle cruiser.
More than 4,600,000 people visited her during the three-year journey. Having secured her position as an American icon, she returned to her home port of Boston. In 1941, she was placed in permanent commission, and an act of Congress in 1954 made the Secretary of the Navy responsible for her upkeep.
On July 11, 1976, as part of her bicentennial visit to the United States of America, Queen Elizabeth II of Great Britain and Prince Philip came to Boston and toured the ship with Commanding Officer Tyrone G. Martin. The Secretary of the Navy, J. William Middendorf, then presented the Queen with a special gift—a sea chest made from original wood that had been removed from the hull of Constitution during refurbishment in the early 1970's.
From 1992–95, Constitution underwent a 44 month refit and overhaul ending in the ship being returned to fully sailable condition. Her refit was far less extensive and intensive than Constellation's, as Constitution was in much better shape.
On 21 July 1997, as part of her 200th birthday celebration, Constitution set sail for the first time in over a century. She was towed from her usual berth in Boston to Marblehead, then set six sails (jibs, topsails, and driver), then sailed unassisted for an hour and rendered a 21-gun salute.

The modern day role of "Old Ironsides" is that of "ship of state". With a mission of promoting the Navy to millions of visitors and observers each year, the crew of 55 modern-day sailors participates in ceremonies, educational programs and special events while keeping the ship open to visitors and providing tours. She is still a fully commissioned vessel, and is one of only two presently commissioned ships in the US Navy to have sunk an enemy vessel, the other being the USS Simpson. The crew is all active-duty sailors and the assignment is considered special duty in the Navy. Traditionally, the duty of captain of the vessel is assigned to an active duty Navy commander.


Scale kit description
The kit features the following: This advanced kit is suitable for ship kit builders who previously built two or more models of a similar style.
A plank on frame hull construction, building plans with general details, English instructions, lost wax brass castings walnut or lime planking, wooden masts and spars, brass and walnut fittings, etched brass details, rigging cord and silk flag. All sheet ply sections are laser cut for accuracy.

CAUTION!! Although these are high quality ship model kits, they may not be suitable for some one not familiar with building of wooden model ship kits. See more.


Ship model USS Constitution is favorite wooden scale kit from Mantua manufacturer. It is popular for its good quality and the customers often buy it as a valuable and nice gift. Scale model kit USS Constitution from Mantua contains necessary building material and parts. That is why the modeler can focused only on building of this nice wooden tall ship model. Victoryshipmodels selects and offer only the best ship model kits. Ship model USS Constitution is one of them.

Retail box in pictures - overview
Wooden planks and parts, accessories, documentation.