Ship model Amerigo Vespucci, wooden kit Mantua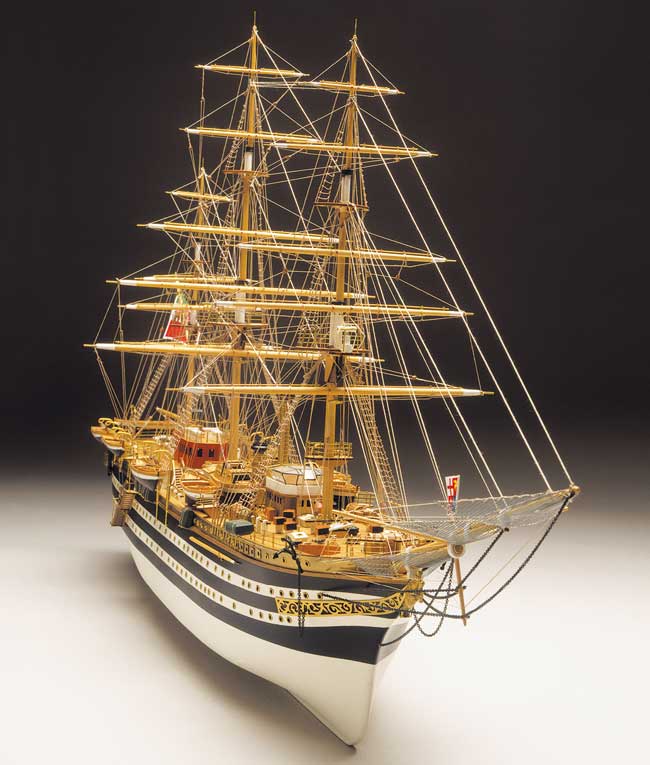 Specification
Scale 1:100


Length: 1000mm


Height: 540 mm


Difficulty: 3


Part No.: MM799

Amerigo Vespucci ship model
This is an exact scale model of the famous school ship of the Italian Navy. She was planned by lieutenant colonel Francesco Rotundi, following the trends of sailing warships. She was launched in 1931 at the Navy ship yards of Castellammare di Staia Naples.

Scale 1:100, Length: 1000 mm, Height: 540 mm
Display scale kit difficulty: 3


Ship history
This is an exact scale model of the famous school ship of the Italian Navy. She was planned by lieutenant colonel Francesco Rotundi, following the trends of sailing warships. She was launched in 1931 at the Navy ship yards of Castellammare di Staia Naples.

In the late 1920s, the Italian navy began construction of two ships for training their officer cadets at Sea, Cristoforo Colombo and Amerigo Vespucci. The design chosen was that of a seventy-four-gun frigate, though they had steel hulls and carried double top gallants, auxiliary power, and other modern devices.
Amerigo Vespucci Ship was named for the Florentine explorer for whom the sixteenth century German cartographer Martin Waldseemuller, named the newly discovered land masses to the West.
Her full lines are in sharp contrast to the majority of sail-training vessels. A letter from a Norwegian submarine commander having encountered the two sister ships reads as follows:
Following the Second World War, her sister ship was acquired by the Soviet Union. Amerigo Vespucci resumed her sail-training mission for the Italian Navy well into the 1990s.

Scale kit description
The kit features the following: This advanced kit is suitable for ship kit builders who previously built two or more models of a similar style.
The kit contains laser cut frames, keel, decks & all the wooden structures; all planks, masts, metal & wooden fittings, lost wax cast parts & laser etched details & accessories. Plans are in full detail. Double planking is in lime and walnut, rigging cord and brass photo-etched accessories.

CAUTION!! Although these are high quality ship model kits, they may not be suitable for some one not familiar with building of wooden model ship kits. See more.


Ship model H.M.S. Victory is favorite wooden scale kit from Mantua manufacturer. It is popular for its good quality and the customers often buy it as a valuable and nice gift. Scale model kit H.M.S. Victory from Mantua contains necessary building material and parts. That is why the modeler can focused only on building of this nice wooden tall ship model. Victoryshipmodels.com selects and offer only the best ship model kits. Ship model H.M.S. Victory is one of them.

Retail box in pictures - overview
Wooden planks and parts, accessories, documentation.

Wooden parts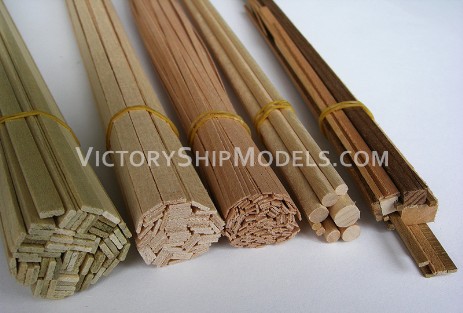 Accessories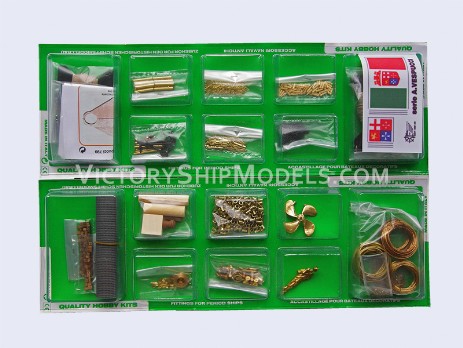 Documentation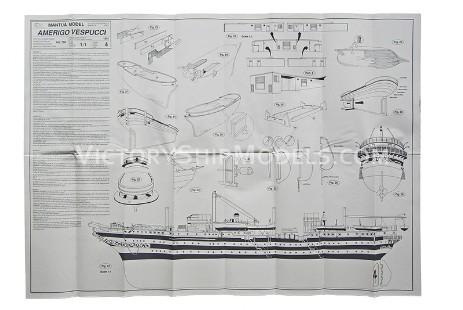 Open box