Ship model Endeavour, wooden kit Mantua
Specification
Scale 1:60


Length: 810 mm


Height: 655 mm


Difficulty: 2


Part No.: MM774

Endeavour ship model
This ship was originally built as a collier in Whitby and was bought and refitted by the Royal Navy in 1768. The works included the addition of a further deck to provide cabin accommodation. She was then re-launched under her new name Endeavour and went on to become famous as Captain Cooks ship in his scientific journey of discovery.

Scale 1:60, Length: 810 mm, Height: 655 mm
Display scale kit difficulty: 2

Ship history
This ship was originally built as a collier in Whitby and was bought and refitted by the Royal Navy in 1768. The works included the addition of a further deck to provide cabin accommodation. She was then re-launched under her new name Endeavour and went on to become famous as Captain Cooks ship in his scientific journey of discovery.

In February of 1768 the Royal Society of London petitioned King George III to finance a scientific expedition to the Pacific Ocean. The expedition's ostensible purpose was to study and observe the 1769 transit of Venus across the sun (in concert with several other observations to be made from different locations). However, a more pragmatic reason was to be relayed to her captain by the Admiralty in additional instructions; namely, to search out the southern Pacific for signs of the postulated continent, Terra Australis Incognita (Unknown southern land).
The mission approved, the newly-built ship was purchased by the Royal Navy for the sum of L2307 5s. 6d. and assigned for use in the Society's expedition. She was renamed Endeavour after a major refit at Deptford on the River Thames in 1768, her improvements including caulking the hull and adding a third deck to prepare her for her new role as an exploration vessel. Classified by the Navy as a bark, she was known as Endeavour Bark to distinguish her from another Endeavour in the Royal Navy. She transported 94 people on her first voyage.
Alexander Dalrymple from the Royal Society was first proposed for command of the voyage, but he made it a condition that he be given a commission with rank of captain, since otherwise the crew would not be subject to naval discipline under him. First Lord of the Admiralty Edward Hawke refused, going so far as to say he would rather cut off his right hand than sign a commission trusting one of His Majesty's ships to a non-seaman! Hawke may well have had in mind a recent case of Dr. Halley who was given such a commission and the sailors refused to recognize his authority.
The impasse was broken by Philip Stephens proposing James Cook who had done good work as a surveyor in Newfoundland and Labrador. The admiralty board accepted this and promoted Cook to the rank of lieutenant on 25 May 1768. As commander of the ship he was naturally called captain by those onboard.
Other notable members on the expedition were the naturalists Sir Joseph Banks from England, Dr. Herman Spöring from Finland, Daniel Solander from Sweden (the Oxford University honoured the Swede with a Doctorate of Law after this expedition) [citation needed] and the English astronomer Charles Green, who was to be in charge of making the astronomical observations.

Scale kit description
The kit features the following: This intermediate kit would be suitable for anyone who has previous model building experience.
A plank on frame hull construction, building plans with general details English instructions, lost wax brass castings walnut or lime wood planking, wooden masts and spars, brass and walnut fittings, laser etched details, rigging cord and silk flag. All sheet plywood sections are laser cut for accuracy.

CAUTION!! Although these are high quality ship model kits, they may not be suitable for some one not familiar with building of wooden model ship kits. See more.

Ship model Endeavour is favorite wooden scale kit from Mantua manufacturer. It is popular for its good quality and the customers often buy it as a valuable and nice gift. Scale model kit Endeavour from Mantua contains necessary building material and parts. That is why the modeler can focused only on building of this nice wooden tall ship model. Victoryshipmodels.com selects and offer only the best ship model kits. Ship model Endeavour is one of them.

Retail box in pictures - overview
Wooden planks and parts, accessories, documentation.

Open box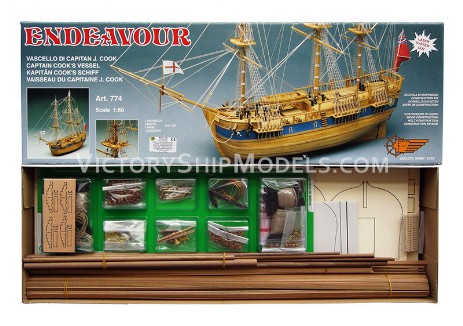 Wooden parts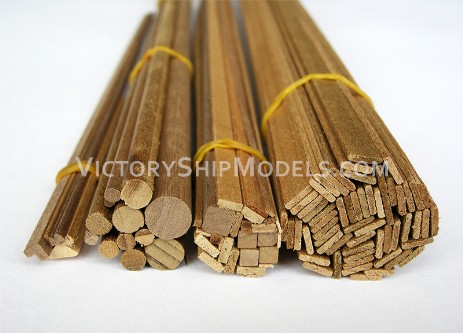 Accessories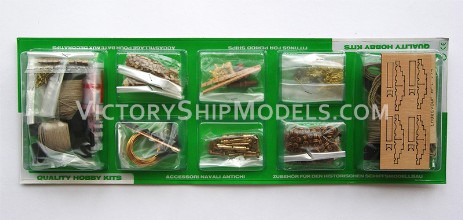 Documentation